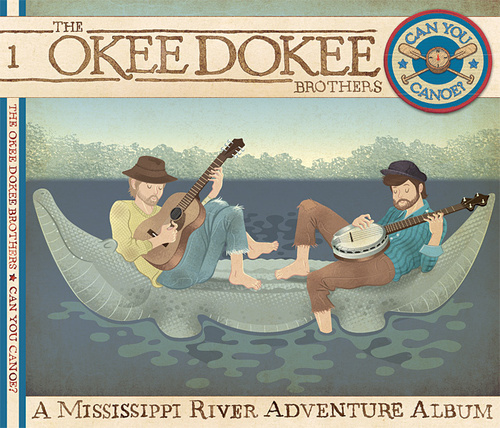 All About the Okee Dokee Brothers: Folk and bluegrass music for kids is nothing new — sometimes quite literally, with the same hoary covers taking up space on countless records from Burl Ives to the present day. Joe Mailander and Justin Lansing, a.k.a. the Okee Dokee Brothers, offer an exception to the rule: traditional instrumentation and tight harmonies blend artfully with sharp original arrangements and lyrics that swing gently from tender to funny and back again.
What They Sound Like Put together a guitar, a banjo, and some brotherly harmony, and you've got the idea — although the Okee Dokees understand the value of a little production, too (more on that in a minute).
Album Highlights Folk artists have had to walk a tricky line in the recording age, trying to balance between presenting an honest account of their performing gifts while making room for enough audio sweetening to keep listeners interested at home, and the Okee Dokee Brothers are no different; on previous albums, they've struggled to deliver recordings that sounded raw while still boasting full-bodied arrangements. They hit the target square on the bullseye with Can You Canoe?, which offers the best of all worlds — the production (by the inestimable Dean Jones) is actually pretty involved, but it leaves plenty of room for the songs to breathe, creating the illusion of a campfire performance that somehow includes a cast of dozens (and a tuba, and an upright bass, and a few fiddles, and a couple of accordions, and…)
All of which would be little more than pleasant if it weren't for the songs themselves — which are, to a number, outstanding. Unlike a lot of trad-focused performers, the Okee Dokees have always been songwriters first, and one of the pleasures of their discography is listening to them hone their craft — and I don't think it's overstating the case at all to say that with Can You Canoe?, Lansing and Mailander make a persuasive case for themselves as two of kindie's best songwriters.
There just aren't any bad songs here — and what's more, the Okee Dokees manage to seamlessly weave and interpolate their original ideas with elements of traditional songs, all of which hold up solidly against covers of unimpeachable standards like "Haul Away Joe" (featuring Garth Hudson) and "King Kong Kitchie Kitchie Ki-Me-O." It's an aspect of the album that I think a lot of people probably won't hear, but it might be the most important one; it reflects Lansing and Mailander's respect for their musical roots as well as their confidence in their own maturing gifts.
Suggestions for Improvement Beats me. No clue. Best of luck trying to top this one, guys.
Target Age Group Everyone
Final Verdict Can You Canoe? had a lot to live up to. As we discussed with the Okee Dokees in last year's interview, the album came out of a monthlong canoe trip down the Mississippi River that took Lansing and Mailander from Minnesota to St. Louis — a beautiful idea with amazing potential, but one that might have seemed like sort of a waste for the audience if it hadn't produced an album that holds up to repeat listens. Well, it doesn't: It demands them. Just ask anyone who lives in my house — I've had it in heavy rotation right alongside the kids.
Like the Mississippi, Can You Canoe? has a generally calm surface — including some of the loveliest ballads you're likely to hear all year — but it also holds a lot of depth. This is a record about kindness, patience, friendship, brotherhood, travel, respect for the natural world, and a whole lot more — all big concepts for a little 38-minute collection of songs, but ones that move gracefully below the surface, lending calm, cool resonance to what was already a beautiful journey.
And speaking of the journey, I'd be remiss if I didn't point out that Can You Canoe? also comes with a DVD that outlines the Okee Dokees' trip, including a number of funny looks at life on the river, some music videos, and at least one can't-miss segment featuring a few words to live by from Kenny Salwey, the self-proclaimed Last River Rat. It's all decidedly homespun, but digital recording has come an awfully long way, and the film benefits greatly from the Okee Dokees' decision to turn that part of the trip over to director Alex Johnson, who (along with editor Jed Anderson and assistant director Bryan Sieh) captures a lot of natural beauty with a canoe-ready rig.
It all adds up to the album to beat for the best kindie release of the year — a set of songs that should provoke family singalongs and discussions in equal measure. I can't wait to hear where their journey takes them next.