As I wrote a few months ago, I've been rediscovering the joy of reading to my kids this year, and I've been meaning to share more of those experiences here, but I keep letting other stuff get in the way.
To make up for it, sort of, here's a brief rundown of some of the better family-friendly books I've enjoyed lately. Nothing I write here will do justice to the authors' work, but if you're looking for reading recommendations, maybe I can point you and your kids in the right direction. Without further ado: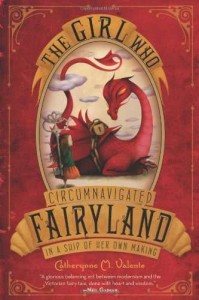 Catherynne M. Valente, The Girl Who Circumnavigated Fairyland in a Ship of Her Own Making
Oh, how I love this book. If I remember right, it started life as a series of posts, which gathered enough fans that Valente was able to crowdfund publication of her novel — which went on to become a New York Times bestseller.
The book's success is richly deserved. I picked it up on a whim during a trip to our local bookstore, and was immediately drawn into the funny, exciting, scary, and downright moving tale of September, an impetuous 12-year-old girl from Omaha who finds herself whisked away on an adventure that combines familiar elements (anyone who's read Lewis Carroll or the Oz books won't be able to resist a knowing grin) with Valente's marvelously unique prose.
It's my favorite family book of the year, by far, and I can't recommend it highly enough. If you have very young or very easily frightened kids, it might push the envelope a little in terms of peril and/or violence, but I only did some very, very light editing in the grimmest spots, and my kids were five and three when we read it. We all can't wait for the sequel(s).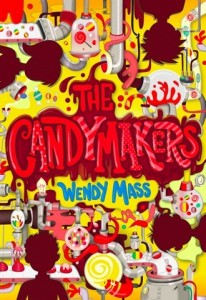 Wendy Mass, The Candymakers
Kids in a candy factory, all trying to win a contest…sounds familiar, right? Not to worry — although The Candymakers might have a troublesomely Wonka-esque premise, the book really just uses it as a springboard for an artfully constructed mystery with strong themes of friendship and trust.
The Candymakers uses four protagonists to tell its story, all kids with markedly separate personalities (girls, just wait until you get to know Daisy) and some sort of secret to be revealed. They come together during the two days leading up to the annual Confectionery Association Conference, all chosen as contestants in a big contest to create a new candy. If you're already guessing that they'll each learn a lesson about teamwork, you're right, but Mass manages to add a few wrinkles to the formula.
This is a solid book for boys and girls from across the K-5 spectrum — my daughter loved it, and she just started kindergarten, and my wife is currently reading it to her third and fourth graders.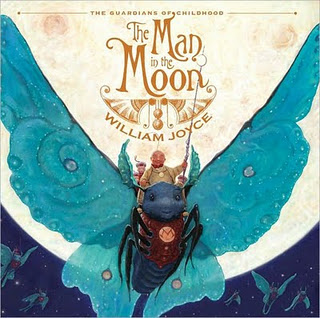 William Joyce, The Man in the Moon (The Guardians of Childhood)
The brief prologue to an intended series about the magical beings that watch over the kids of Earth (including Santa, the Easter Bunny, the Tooth Fairy, and — you guessed it — the Man in the Moon), this book is short enough to read in a few sittings, but it sets up a whopper of a saga, and it's packed with gorgeous illustrations.
Without giving too much away, I'll just tell you that Joyce lays out loads of ready-made mythology here, drawing on the hokey characters every kid knows by heart to construct the boundaries of a world that has the potential to be as rich and inviting as Piers Anthony's Xanth (although I suppose a more apt comparison would be his Incarnations of Immortality series, but whatever).
Put simply, there's a long and epic war being waged for the children of the universe, and the lines are drawn between the Guardians of Childhood and Pitch, the King of Nightmares. Of course, it's a story that has its scary moments, but more than anything, it's exciting — you already knew Joyce was a fabulous illustrator with a finely tuned sense of whimsy, but it turns out he also has an amazing gift for pacing a kids' book like an action thriller, not to mention describing fast-paced battles. In other words, my four-year-old son loves it.
In fact, we've already moved on to Book One of the series, Nicholas St. North and the Battle of the Nightmare King, which reveals the origin of the young Russian bandit who eventually becomes…well, we can talk about that later. Start with The Man in the Moon, and thank me later.
That's it for now, but I've already got a Kindle queue bursting with books begging to be read to my kids, so I'm sure I'll be back for more. Happy reading!