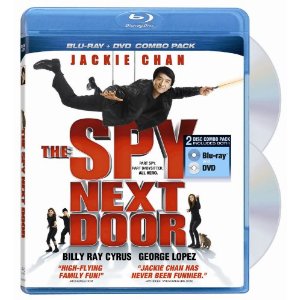 There's an old adage attributed to W.C. Fields that goes, "Never work with children or animals." To that I would add Chinese actors who have difficulty with English. While Chan has the charm of any gifted comedian, he can't act in English at all. Add to the mix a bunch of kid actors perform like they're being coached off screen, plus the thespian talents of Billy Ray Cyrus, and you have an idea of the quality acting in this movie.  If you can get past that, as most children, ages 7-12 can, then you can appreciate The Spy Next Door for its charms.
First of all, the story is sweet. Jackie Chan plays Bob, a superspy living in the suburbs, next door to single mom, Gillian (Amber Valletta) and her three young kids: Farren (Madeline Carroll), the snarky teenager, Ian (Will Shadley), the nerdy, socially awkward son, and Nora (Alina Foley), the precocious little daughter. When the film opens, Bob and Gillian have been dating and he wants to take the next step in their relationship. He has decided to retire from espionage and would like to propose. The only problem is that he's never bonded with the kids, and frankly, they think Bob is the biggest dork they've ever met (a guise he assumes part to keep his identity incognito from the rest of the world). Gillian is reluctant to commit until the kids accept Bob. As the movie gods would have it, she is called away for a family emergency; Bob volunteers to watch the children.
Meanwhile, Poldark, a nefarious Russian spy (played by Lazytown star, Magnus Scheving) has escaped from custody and Bob's old CIA buddies (Cyrus and George Lopez) call him back in for one final mission. As you would expect, the secret agenting and the babysitting worlds collide, leading to a disastrous breakup with Gillian and everyone's life in danger. This being a family movie, no one's life is ever really in danger. The villains are too buffoonish to do any harm, and Bob is just too smart to let them get away with anything.
The Spy Next Door bears some similarity to The Pacifier, that Vin Diesel hit film from several years back. Jackie Chan is a champ throughout this film and keeps the energy of everything up.  Likewise, director Brian Levant keeps the pace moving, leaving very little room for the dull moments that kill these kinds of movies. Unfortunately, and I mentioned this above, the acting sometimes borders on painful. The kids. The fake Russian accents. Jackie Chan and Billy Ray Cyrus.
I know, I know, "it's a family film! Give it a break!" I have given it a break, the first time I watched it. But the 6th and 7th time my children popped in the DVD I had to exit the room. This just means that I'm definitely not the real audience for this movie. Once is enough for grown ups, but kids will love it time and a gain. The reason is Chan's personality. His talents as an action hero and a physical comedian make watching him a joy, especially for kids, who like to see bad guys get what's coming to them. Your children will love The Spy Next Door, and it's a safe family movie that should you walk away for a couple of minutes… or the entire movie, you won't have anything to worry about.
Extras for this Blue-Ray/DVD combo set are minimal. Worth checking out is the featurette, "Jackie Chan: Stunt Master and Mentor – Working with the King of Action". It's a loving tribute to the star and shows what kind of a professional he is on set/ Chan comes across as one of the real good guys in Hollywood and his cast and crew genuinely seem to worship him.