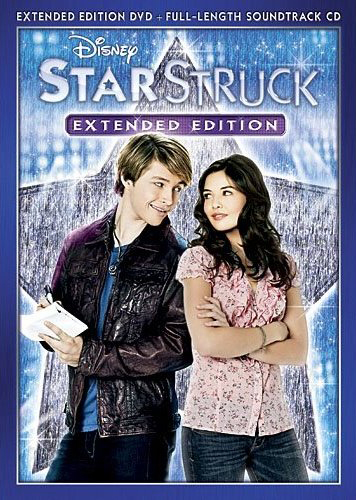 Starstruck is the latest Disney Channel movie crafted as a vehicle for one of their television stars, in this case Sterling Knight, one of the cast members from the hit series, Sonny with a Chance. It would be easy to write it off as just another way for the network to get huge ratings, but this Starstruck is actually a lot better than most of the movies the Disney Channel churns out.
Danielle Campbell, a relatively unknown teen actress whose biggest credit is the un-tween friendly Prison Break, stars as Jessica, a Michigan teenager on a family vacation to visit her grandmother in Los Angeles. Her older sister, Sara (Maggie Castle) is obsessed with pop star Christopher Wilde (Knight) and thinks she'll be able to track him down while in California (only in a Disney movie). Jessica could care less for the world of movie stars and pop musicians, she'd rather go sightseeing and spend some time on the beach, so when Sara drags her along in search of Christopher Wilde, she does so dragging her feet.
Just who is Christopher Wilde? You'd expect him to be some stuck up snob, the kind of character that Knight plays so effectively on Sonny with a Chance. However, Wilde is actually just a lucky kid whose parents are consumed with his career and making decisions without his input. They want him to tour endlessly and possibly take a role in a big movie project that could make the family more money. No one seems to have his best interests in mind, especially not his fame hungry girlfriend (Chelsea Staub). His lone voice of reason and loyalty is his best friend, played by Brandon Mychal Smith (also from Sonny With a Chance).
Like the best romantic comedies that Starstruck is emulating, dating back to the dawn of talking motion pictures, the privileged Christopher Wilde and the uninterested Jessica are destines to meet, fall for each other, get photographed by paparazzi, have a misunderstanding that leads to a fall out and ultimately come back together. It's like Notting Hill for a much younger crowd, except that Starstruck is actually more enjoyable than Notting Hill.
Campbell is a bright young star that lights up the screen when she's on camera. If the head honchos at Disney don't already have more projects with her in the works, they're idiots. And Knight has a great comic timing and boatloads of charm. As I mentioned earlier, he plays a real jerk on Sonny with a Chance. In this film, he's funny, serious and heartfelt. Starstuck may follow a formula, but it is well written, has some great performances and promotes strong messages of honesty, humility, self-acceptance and strength of character. Chalk this one up as a winner for girls and families alike.
This being a movie about a pop singer, there are plenty of opportunities for Knight to perform. The kid has a nice voice, as heard on the CD that accompanies this 2-disc DVD and CD set. Other features on the DVD include an extended version of the movie that is only available on DVD, three music videos, plus eight "rock along" tracks that give girls (and boys) the opportunity to sing along with the stars.