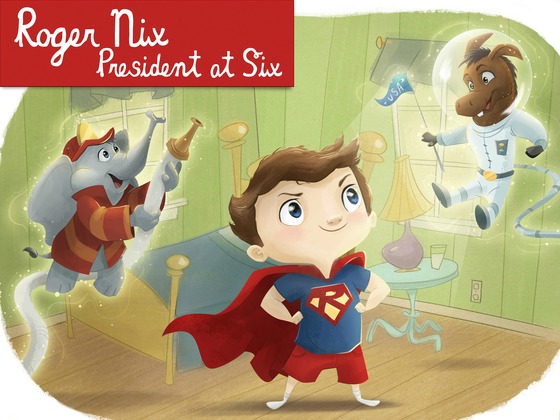 I know a lot of artists who are ambivalent about it, but I love the Kickstarter model — it gives consumers a more tangible level of ownership in an artist's work, and it also makes us wait for what we want in an age when what we want is often only a click away. We don't often get to anticipate things anymore, you know? I think that's important.
And speaking of which, I'm anticipating the fall 2012 release of Roger Nix, President at Six, the new book from author Nick Dazé. You see that nifty illustration above? It's from a story that Nick describes like this:
The story is about kindergartener Roger Nix, an ordinary boy: Roger loves kindergarten, playing make-believe, and hanging out with his imaginary friends (a baby donkey named Jack and a baby elephant named Abe). But when he learns about the plans of Old Man Plee, a perennial presidential candidate, to shut down schools and send kids to work in factories as an austerity measure; Roger decides to run against Old Man Plee as a defender of "school and summer vacation, learning and imagination".
Of course Abe and Jack are there to help him every step of the way.
Written in clever Seussian rhyme and illustrated by Bill Robinson, Roger Nix is a little more than $8,000 away from its $30,000 goal with just a couple days to go in its campaign. A $30 pledge will get you a first-edition hardcover copy of the book and a campaign bumper sticker. I didn't even need to see the trailer embedded below before I kicked in. How about you?