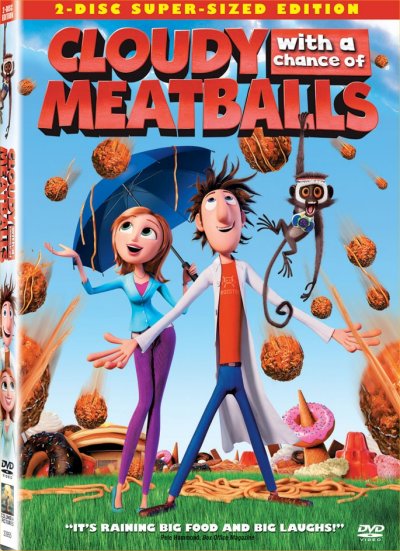 You can add Cloudy With a Chance of Meatballs to the list of entertaining family films that can be enjoyed by kids and adults alike. Funny, irreverent and sometimes emotionally resonant, this film, based on the children's book by Judi Barrett and Ron Barrett, is one of the few animated films that succeed without having the word "Pixar" attached to it. It's no surprise that Cloudy With a Chance of Meatballs was hit in theaters last fall. Some cynics might say that because the film was in 3-D this accounted for the film's popularity. They're wrong because even without the 3-D effects, Cloudy With a Chance of Meatballs is a great movie.
Bill Hader (Saturday Night Live and Superbad) stars at Flint Lockwood, an inventor who dreams of changing the lives of the citizen of his tiny hometown, Swallow Falls, loctaed on a tiny island located under the letter "A" in the word "Atlantic Ocean" on world maps. Swallow Falls used to be the sardine capital of the world, until the world realized that sardines are gross and stopped buying them. After years of invention mishaps (rat-birds, a remote control TV that walks away from its owner) Flint has created a machine that will create food out of water. Sounds ingenious, right? Well, it would be if Flint wasn't a bit of a doofus.
The day he wants to test his experiment, the machine rockets into the sky and gets trapped in the clouds. With the moisture from the rain, Swallow Falls is suddenly raining cheeseburgers and snowing ice cream. Much to the dismay of Flint's stoic father (wonderfully voiced by James Caan), Flint is cheered a hero and it's not long before the corrupt mayor (Bruce Campbell, smarmy as always) schemes his way into Flint's life to use the machine for his own greed. When things go haywire and giant food threatens to destroy Swallow Falls and then the world, it's up to Flint, a plucky weather girl (delightfully done by Anna Farris) and Flint's monkey assistant, Steve, to find some way to shut down his machine.
As directed by Phil Lord and Christopher Miller, these talented men and their team of computer wizards have crafted a delightful movie, assembling a wonderful cast that doesn't include one single superstar (unless you include Mr. T- who kicks ass, by the way). Hader is perfect as Flint, a performance full of life and charm.
Likewise, Farris is fun in the role of Sam Sparks, the weather girl. The two of them have great screen chemistry; the warmth they bring to their roles, along with splendid comic timing, make Flint and Sam characters you want to root for. As I said, Mr. T, as over the top, hard nosed police man (who has a soft side for his son) is brilliant.
Also in the cast is Andy Samberg, and in small roles, Benjamin Bratt and Neil Patrick Harris.
The directors decidedly took the film in a cartoony direction, giving the animation a very fluid and lively look. As this was originally intended for a 3D experience, you can tell when objects were meant to pop things out of the screen at you; however these moments are not distracting at all. In fact, having only seen the film in 2-D I don't feel like I was missing anything. The colors are vivid, the action exciting, the jokes are very funny (I laughed out loud along with my kids) and the sentimental scenes were not too sacchariny. Although the script's themes cover ground already done in other films, the writing doesn't feel clichéd. Everything feels fresh, like a hot meal coming out of the oven, or in this case, descending down from the sky thanks to a wacky invention. As I said in the opening, this is one movie the whole family can sit down and get watch together.
The 2 disc DVD comes with some nice features, not too many, but enough to keep you happy. The behind the scene featurette on making of the film was silly, but informative.
More enjoyable was the featurette on the voice casting of the film, despite the fact that some of the cast were not heard from (how can you use Bruce Campbell and not have an interview with him?).  The DVD has a food fight game, which is cute, as far as DVD games go; deleted scenes; audio commentary;  and a pointless music video for Miranda Cosgrove (iCarly) performing the film's theme, "Raining Sunshine."