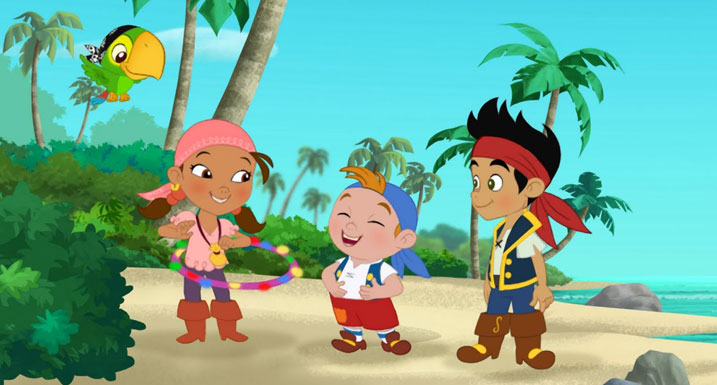 The flagship animated franchise for Disney Junior, Jake and the Never Land Pirates has earned impressive ratings for the network since its February debut, and it's easy to see why: It's colorfully animated, with reliable Disney storylines revolving around adventure, teamwork, and friendship, and it draws on a venerable studio franchise without totally cashing in on its most popular characters.
It also boasts a pretty incredible voice cast, with talented voicework vets like Jeff Bennett (who plays Mr. Smee) rubbing shoulders alongside live-action stars like Madison Pettis, Ariel Winter, Colin Ford, and — yes, you're reading this right — David Arquette as a talking parrot. (The list of recurring cast members is even more eclectic and/or impressive: Tori Spelling, Lisa Loeb, Adam West, and Sharon Osbourne have popped up in the cartoon cove.)
As cartoons go, Jake is fairly unremarkable, although its blend of bold color lines and swashbuckling adventure certainly puts it a cut above the sort of franchise cash-in it could have been. Jake (voiced by Ford), Izzy (voiced by Winter), Cubby (Jonathan Morgan Heit), and their pet bird Scully (Arquette) spend their days foiling Captain Hook and Smee's ineffective plots, earning gold doubloons for teamwork along the way, with musical interludes as they go. The storyline beats will be familiar to anyone who's ever seen a cable cartoon, but it's all smartly done and extremely enjoyable for the target demographic.
This DVD set culls seven episodes from the first season's 20-episode run, which seems unnecessarily chintzy, but to make up for its lack of comprehensiveness, Yo Ho, Mateys Away! bundles in a seven-song soundtrack CD and an "official pirate eye patch." The patch is about as cheap-looking as you'd expect, although I suppose Disney deserves credit for making them out of fuzz-lined pleather instead of plastic.
All in all, you get about three hours of Jake and the gang for your $14.99, plus some music and the patch — not a bad investment for your next long car ride, and worth a spot in your family DVD library if you live with fans of the show.
---