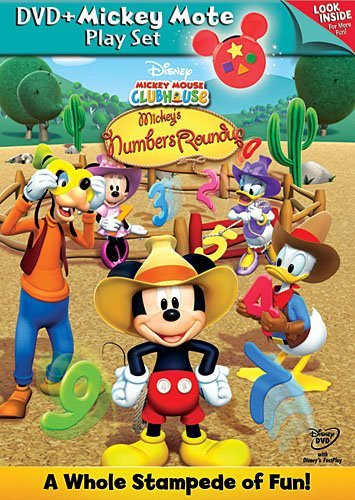 My three-year-old son's first words were "poop" and "remote," so when Disney announced its Mickey Mote line of DVDs, I knew we had a winner. If your little ones share his fascination for anything that has buttons and can reprogram your TiVo to record The Jimmy Sturr Show while you aren't looking, you'll want to check this out.
Basically, what we have here is a chunky red remote, shaped like Mickey's head, that works with a growing catalog of DVDs, two of which Disney was kind enough to send along with the Mickey Mote.
Having let my little menace have his way with the Mote while watching Mickey Mouse Clubhouse Numbers Roundup and Handy Manny: Big Construction Job, I can tell you that it works as advertised — and these titles, while certainly devoid of anything I'd voluntarily watch on my own, are chock full of Disney Channel fun.
Mickey Mouse Clubhouse is the Disney Channel's top-rated offering for toddlers, and Numbers Roundup bundles roughly 100 minutes' worth of simple math adventure for the little ones. You can navigate the DVD with the Mickey Mote, and use it to watch in Discovery Mode, a two-tiered feature which asks the kids to answer questions (easy or slightly more difficult, depending on age level) using the buttons. It's nothing more revolutionary than the Teddy Ruxpin doll that used to talk to your TV, but the Mickey Mote is easy to program, and its four big buttons (star, square, circle, triangle) are simple to use.
And then there's Handy Manny: Big Construction Job, a feature-length adventure starring Disney's copyright-baiting mashup of Bob the Builder and Diego the Explorer. I personally find it rather astonishing that this show has been nominated for an Emmy, but it's fun to imagine Wilmer Valderrama (who voices Manny) trapped in a cartoon world, and my son loves Bob the Builder, so he was all over Big Construction Job. Again, Discovery Mode is both simple and robust; probably the worst thing about the Mickey Mote is that my kids are going to start reaching for the real remote again.
If you're looking for affordable gifts for your kids during the holidays, you could do worse than the Mickey Mote and its attendant DVDs — a DVD/Mote set will set you back about $25, and the standalone Mote-enabled movies are about $20. Think of them as less pricey alternatives to Leapster games, and you're on the right track.