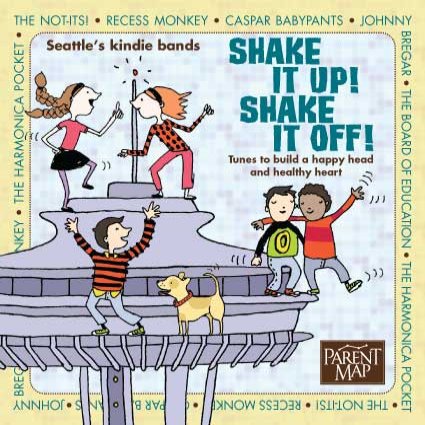 It's hard to pass up good music for a good cause. ParentMap is an online and print magazine from Seattle set to release their first ever family music compilation. It features some of the best in the Kindie music scene, that just happen to reside in Seattle – Caspar Babypants, The Not-it's and Recess Monkey just to name a few.
As for the "good cause" part of the album, ParentMap will donate $3.00 from each CD purchase to the Seattle local nonprofit of the buyer's choice.
Additional information on the album can be found here.
Tracklist:
1. Googly Eyes – Caspar Babypants
2. I've Got a Goat – The Not-Its!
3. The Sun Will Shine for You – Recess Monkey
4. 8 Is a Number – The Board of Education
5. Dog Gone Gone Dog Gone – Caspar Babypants
6. Freeze Tag – The Not-Its!
7. In the Sky – Johnny Bregar
8. Spiders in my Breakfast – The Harmonica Pocket
9. Jet Pack – Recess Monkey
10. Two Thumbs Up – Johnny Bregar