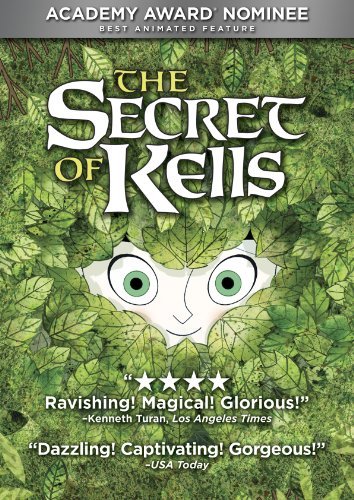 The Secret of Kells (Flatiron, 2010)
The surprise feelgood story of last year's Academy Awards, this beautiful tribute to Celtic lore went from small Irish film to Oscar-nominee overnight — and sent scores of American film columnists hustling to Wikipedia to try and figure out who Kells was and what he was hiding. Now, after a successful worldwide run and heaps of glowing reviews, The Secret of Kells comes to DVD and Blu-ray.
Synopsis:
Young Brendan lives in a remote medieval outpost under siege from barbarian raids. But a new life of adventure beckons when a celebrated master illuminator arrives from foreign lands carrying an ancient but unfinished book, brimming with secret wisdom and powers.
To help complete the magical book, Brendan has to overcome his deepest fears on a dangerous quest that takes him into the enchanted forest where mythical creatures hide. It is here that he meets the fairy Aisling, a mysterious young wolf-girl, who helps him along the way. But with the barbarians closing in, will Brendan's determination and artistic vision illuminate the darkness and show that enlightenment is the best fortification against evil?
Video: The Secret of Kells is hands down one of the most breathtaking animated features to reach theaters in the last 20 years — a dazzling blend of ornate, abstract shapes and lushly painted landscapes, it reaffirms that no matter how lifelike the computer-generated stuff might get, it just can't approach the beauty of a really well-made hand drawn feature.
Audio: The Dolby 5.1 surround soundtrack utilizes space and balance effectively, keeping the dialogue centered without sacrificing Bruno Coulais' vibrant score.
Special Features: There's nothing terribly out of the ordinary here, but you get a decent array of bonus content, including an audio commentary from director Tomm Moore, co-director Nora Twomey, and art director Ross Stewart; glimpses at voice recording sessions with Brendan Gleeson, Evan McGuire, Christen Mooney, and Mick Lally; an introductory presentation to the film from Moore, some side-by-side comparisons of the finished product with their rough pencil sketches; a pair of trailers; and a look at Kells' whirlwind Oscar experience.
Bottom Line: While it's undoubtedly too intense for the under-8 set, Kells works as both an exciting animated adventure and an introduction to ancient Celtic lore. The voice work is superb, and the animation is simply flawless.
Some viewers may take issue with Kells' occasionally deliberate pace or its surfeit of cliched mystical mumbo-jumbo, but whatever it may lack in narrative sparkle, it more than makes up for with pure visual wonder.