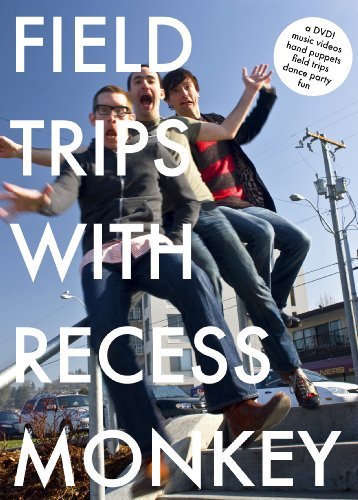 Recess Monkey – Field Trips with Recess Monkey (2009, Monkey Mama)
purchase from Amazon
Our love for Recess Monkey has already been well documented, but we'd be remiss if we didn't alert you to the imminent release of Field Trips with Recess Monkey, a DVD companion of sorts to the band's most recent album, the stellar Field Trip.
For those not already in the know, Recess Monkey is a fun-loving, award-winning trio whose previous forays into kids' music — including the aforementioned Field Trip, 2008's Tabby Road, and others — have earned them a devoted following, as well as stacks of glowing reviews from outlets like NPR, Real Simple, and the notoriously cranky and difficult-to-please Stefan Shepherd of Zooglobble. (Just kidding. We love Stefan and he's nothing but charming.) Field Trips with Recess Monkey is the band's first DVD, and includes videos for four songs ("Marshmallow Farm," "Haven't Got a Pet Yet," "Fort," and the wickedly catchy "Hot Chocolate") as well as a handful of vignettes following the Monkeys around Seattle.
Like the band's music, Field Trips is a smart blend of educational and entertaining. The DVD consists of four "episodes," each one hosted by Recess Monkey's manager, a puppet named Mayor Monkey; his segments take place in various Seattle landmarks (including Gasworks Park and the Pike Place market) and lead into fun stuff like videos of the band's appearances on Radio 8 Ball, live performances, and a look at how the Field Trip artwork was illustrated. As you might expect given its self-released origins, it's charmingly low-budget, relying wholly on the music (and the band members' charm) to hold viewers' interest.
Partly for this reason, you'll want to save Field Trips for slightly older viewers, or kids who have seen the band in concert; it's a rather staid viewing experience, and some segments (such as the radio call-ins by local fans, or the visit to illustrator Matt Hawk) may lose the under-8 set, particularly if you try to take in the DVD all in one sitting — but then, it's divided into episodes so you can view it a little bit at a time. Monkey Jack Forman describes it as "kind of like American Bandstand meets This American Life," and that isn't too far off base. At $20, 90 minutes, and plenty of replay value, it'll make a great gift for any Recess Monkey-loving fan (or family).